English Outline
Japan's largest gypsy jazz festival "Setouchi Django Street" will be held for the fourth year
in a row! Please come and enjoy the great performances from Yashima, Takamatsu City, Kagawa Prefecture,Japan! Admission free!
We will be live-streaming on Youtube on the day of the festival.
Please subscribe to our channel in advance. (Free of charge)
https://www.youtube.com/channel/UCHUje8-hhFBKrvm6of4wxjQ

★Sat 7th October
12:00 - 17:00 JST (Japan Standard Time)
 2 venues in a chartered car at Kotoden Yashima Station
 Sessions available *Free entry

★Sun 8th October
11:00-16:00 JST (Japan Standard Time)
 Setonaikai National Park Yashima 3 venues on the mountain
 (Shisi no Reigan Observatory, Senkyo-tei Gallery Acostage, Momotaro Teahouse Observatory)
 Sessions available *Free entry

★Performances (in order of prefecture)
 GYPSY VAGABONZ (Tokyo)
 Daisuke Teshima &Takashi Watanabe (Tokyo, Kumamoto)
 Kamogawa Gypsy Session (Kyoto)
 UESAKA Karin Trio (Osaka)
 YAMAMOTO Yoshifumi TRIO (Osaka)
 NAGI (Hyogo)
 Tomoaki x Tomoaki (Hiroshima, Chiba)
 Django Tigalle (Kagawa)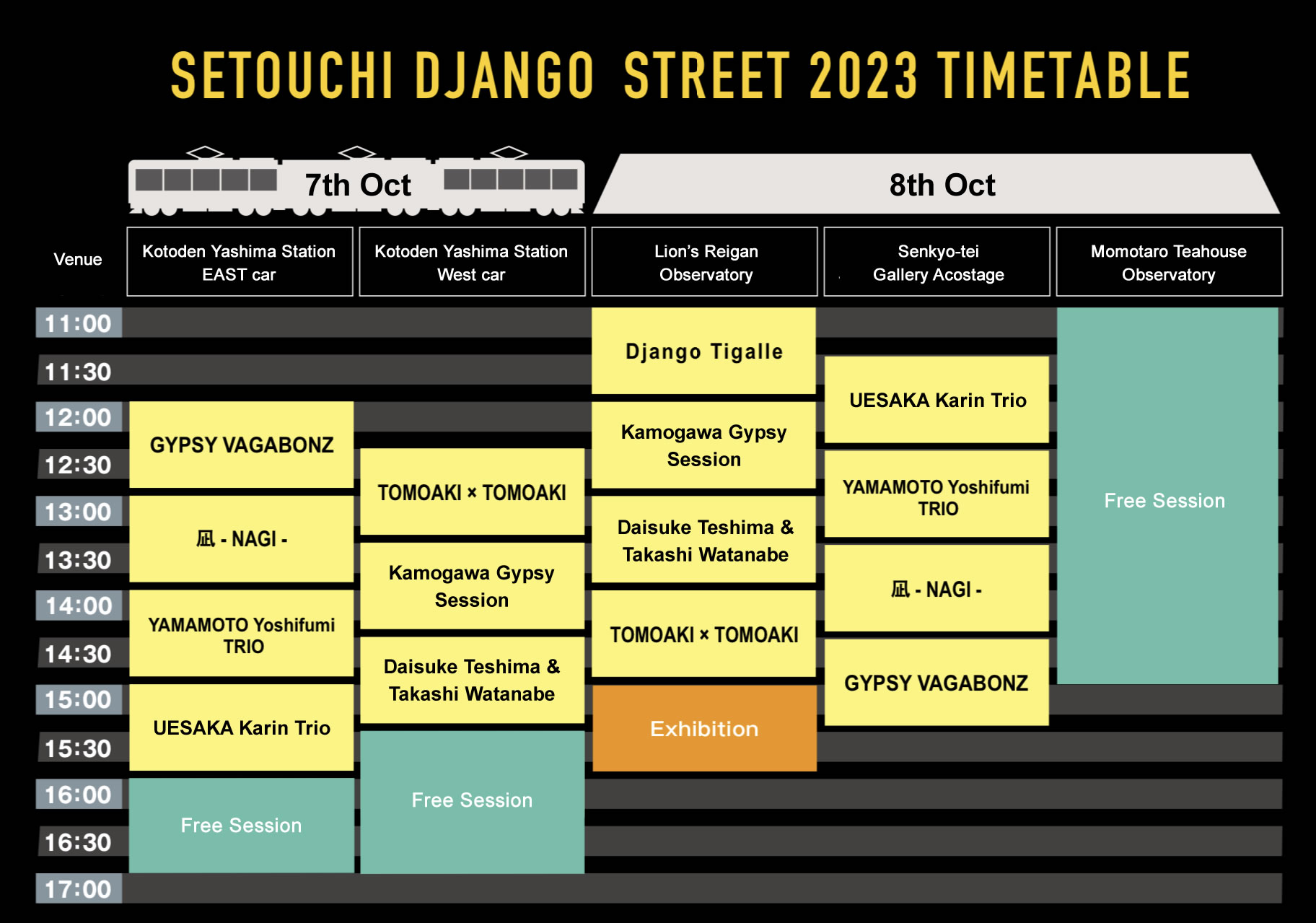 ★Purpose of the event
The purpose of the event is to create a culture of "Local x Minor".
Setouchi Django Street aims to contribute to the creation of local culture and regional development by providing an opportunity to experience unknown and wonderful music (gypsy jazz = minor) in Setouchi, a region rich in history, culture, and nature (local), and by creating exchanges between people from within and outside the prefecture.
★Organizers
 Setouchi Django Street Executive Committee
 Setouchi Gypsy Jazz Project
★Sponsored by
 TAKAMATSU CITY
 Cable Media Shikoku
 FM Takamatsu